The Optoma UHD55 Projector is a powerhouse in the world of home theater technology.
With a display resolution of 3840×2160, the Optoma UHD55 DLP™ projector provides stunningly clear and detailed images, bringing your movies and TV shows to life.
Its 3,600 lumens of brightness ensure that images are bright and vivid, even in rooms with ambient light. The contrast ratio of 1,200,000:1 makes for immersive viewing, with deep blacks and bright whites that make everything on the screen stand out.
The Optoma UHD55 Projector also offers versatile connectivity options, with 2 HDMI 2.0 inputs, 1 VGA input, and 1 audio 3.5mm input. It also has 1 audio 3.5mm output, 1 S/PDIF output, and 1 USB-A power output for added convenience.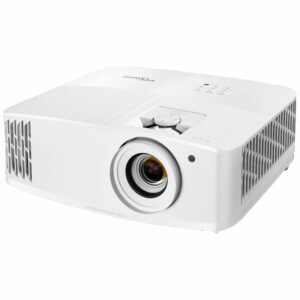 The projector is equipped with wireless connectivity options such as IEEE 802.11 a/b/g/n, WEP, TKIP, AES, WPA, WPA2, and Omnidirectional antenna. The Optoma UHD55 Projector is also sleek and easy to set up, with dimensions of 315 x 270 x 118mm and a net weight of just 3.9kg. The projector has a lamp life of up to 15,000 hours, making it a reliable investment for long-term use.
Overall, the Optoma UHD55 Projector is an excellent choice for anyone looking for a high-quality home theater projector with impressive display technology.