Viewsonic PX701-4K DLP Projector Review – Stunning 4K Picture Quality with Incredible Brightness
The Viewsonic PX701-4K is a DLP projector that promises to deliver 4K picture quality with incredible brightness. With a compact design and advanced features, this projector is ideal for home entertainment or professional use. In this review, we will take an in-depth look at the Viewsonic PX701-4K, exploring its key features, performance, and overall value.
Design and Build Quality
The Viewsonic PX701-4K has a sleek, modern design with a glossy black finish. It measures 14.33 x 10.43 x 5.51 inches and weighs 8kg, making it easy to move around and set up. The projector has a 1.1x zoom lens and a throw ratio of 1.5-1.65:1, which allows for flexible placement options.
The build quality of the Viewsonic PX701-4K is excellent. It feels solid and durable, with no loose parts or rattling noises. The buttons on the top of the projector are responsive, and the focus and zoom rings on the lens feel smooth and precise.
Picture Quality
The Viewsonic PX701-4K uses a 0.47″ 4K UHD (3840×2160) DLP chip and supports HDR content. The projector has a brightness of 3200 ANSI lumens, which is more than enough for use in a brightly lit room. The contrast ratio is 12,000:1, which produces deep blacks and vibrant colors.
The picture quality of the Viewsonic PX701-4K is stunning. The 4K resolution provides sharp, detailed images, and the HDR support enhances the colors and contrast. The brightness of the projector is impressive, and even in a well-lit room, the picture remains clear and visible.
The Viewsonic PX701-4K also has a keystone correction feature, which allows you to adjust the vertical alignment of the image. This feature is helpful if you need to place the projector at an angle or if the screen is not perfectly aligned.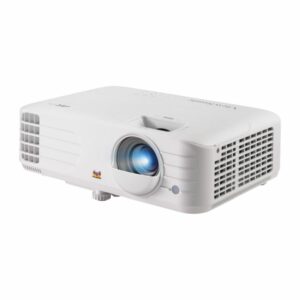 Connectivity
The Viewsonic PX701-4K has a range of connectivity options, including two HDMI ports, a VGA port, a USB Type-A port, a USB Type-B mini port, and an RS232 port. The HDMI ports support both 2.0 and 1.4 versions, which means you can connect a variety of devices, including gaming consoles, Blu-ray players, and laptops.
The USB Type-A port can be used to power a streaming device or to play media files directly from a USB drive. The USB Type-B mini port is for remote control, and the RS232 port allows for remote monitoring and control of the projector.
Audio Quality
The Viewsonic PX701-4K has a built-in speaker system with two 10W speakers. The speakers provide decent sound quality, but they lack bass and can sound a bit tinny at higher volumes. If you want to enjoy a more immersive audio experience, we recommend connecting external speakers to the projector.
Value for Money
The Viewsonic PX701-4K is priced competitively, considering its advanced features and impressive performance. The projector has a lamp life of up to 15,000 hours, which means you won't have to replace the lamp for several years. The 4K resolution and HDR support make it an ideal choice for home entertainment, gaming, and professional use, such as presentations and meetings.
The Viewsonic PX701-4K also has an energy-saving SuperEco mode, which reduces power consumption and extends lamp life, making it an eco-friendly option. The projector also has a sleep timer, which automatically turns off the projector after a set time, helping to conserve energy and prevent unnecessary usage.
Conclusion
In conclusion, the Viewsonic PX701-4K is an excellent projector with impressive picture quality, advanced features, and a reasonable price tag. The 4K resolution, HDR support, and brightness of 3200 ANSI lumens make it ideal for a wide range of applications, from home entertainment to professional use. The connectivity options are ample, and the build quality is sturdy and durable. The only downside is the audio quality, but this is a minor issue that can be easily addressed by connecting external speakers.
Overall, we highly recommend the Viewsonic PX701-4K to anyone in the market for a high-quality DLP projector. With its outstanding performance, excellent features, and competitive pricing, it is a top contender in its category. Whether you're a gamer, movie buff, or business professional, the Viewsonic PX701-4K is sure to deliver an exceptional viewing experience.
If you're interested in buying the Viewsonic PX701-4K projector, it's available for purchase on the following online store:
https://projector.com.sg/projector/home-theater/viewsonic-px701-4k